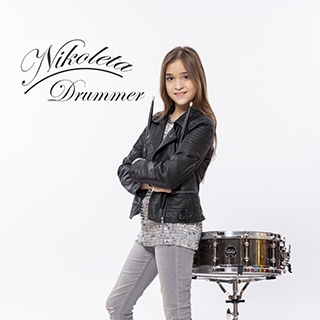 Nikoleta "drummer" Šurinová was born on 22 March 2007 in Trnava and currently lives in Špačince near Trnava.
Nikoleta started playing as a 9-year-old in the summer of 2016. It all started with the idea of her mother Monika, who prepared a surprise for Nikola's father Roman for their 20th anniversary. Her father also played drums when he was young, but then ended up setting up his family. And so her mother invented such a surprise that she asked the famous slovak band DESMOD to ask if Nikola's father Roman could play with them one song at the event "Opening the spa season", where they just met in Piešťany 20 years ago. To remember him what it was like to play on stage.
The surprise was successful and Roman, a member of the former Trnava band D.T.N.L., who recorded the famous SPARTAK HYMNA 20 years ago, played with band DESMOD a song called "Made for me". And when Nikoleta saw her father playing, she was so impressed that she wanted to play drums too. Her parents decided to give it a try, so they bought her first drums. And Nikoleta, right from the start, as she sat behind the drums and began to play, showed that she and the drums fit together as part of the puzzle. And his father, a former drummer, found his successor in his daughter, and he is enjoying today through his daughter on her performances, what he sometimes experienced himself when he was young.
Nikoleta is practicing in her room and her father oversees her playing while practicing basic techniques and also advises and helps her when practicing her own drums in a selected drumless version. The result of combining the drumless version and her drums (drum cover) is then being published on her YT channel "Nikoleta drummer".
Nikoleta has been visiting CZUŠ sv. Gorazda Vrbová since 2017, where she was accepted as an exceptionally gifted pupil. Her percussion teacher Lukáš Slabý, DiS. art., has a fantastic and patient approach. This school enables her to extend her hobby as much as possible. In March 2018, she took part in the Boráková Prievidza competition as a pupil of the Primary Art School Vrbové.
Since September 2019 Nikoleta was admitted to the Private Conservatory of Dezider Kardoš in Topolčany, Department of Drum Playing.
Other achievements in 2018 did not leave long to wait. Nikoleta has been accepted by the world's largest band, ROCKIN'1000, which brings together musicians from all over the world. And in July 2018 Nikoleta played with them a two-hour concert in Florence, Italy.
In autumn 2018 Nikoleta attended the talent show "Czecho Slovakia's Got Talent". Spectators in Slovakia and the Czech Republic were able to watch Nikoleta's passion on TV screens and the joy she feels playing drums has led Nikoleta to an incredible victory in the competition. Nikoleta´s originally went to this competition to fulfill her dream of standing on stage and to show people how she enjoys playing drums and bringing to her the joy she feels while playing. Advancing to the finals allowed her to experience her first TV live show. Nikoleta's TV show appearances have captivated so many people, and has won by so many fans that she eventually became the first child winner in the history of the Czecho Slovakia's Got Talent contest and also the first winner in playing of a musical instrument.
Nikoleta recorded her further success in early 2020 with her first professional clip where was presenting her own drums on the song Let It Go (Disney's "Frozen") and Vivaldi's "Winter" in an arrangement by American artists The Piano Guys. The video was also shared by The Piano Guys on their FB page where the video was a great success.
GALLERY
Nikoleta Drummer Šurinová
MY SHOW
Only 11-year-old winner of the show Czecho Slovakia's Got Talent. With her play, Nikoleta is beating you up to the brightest rhythms. Check it out!